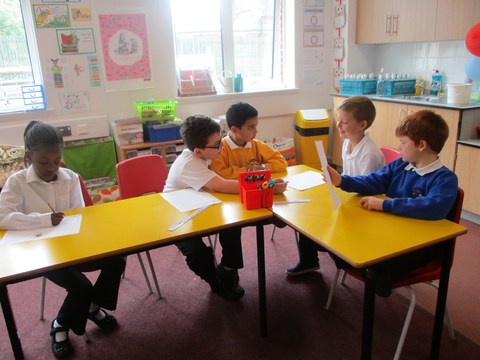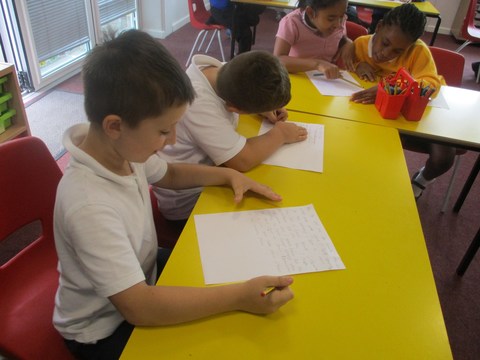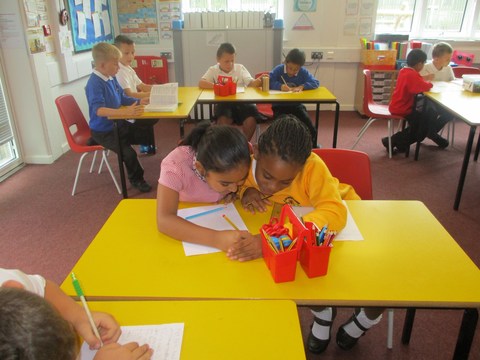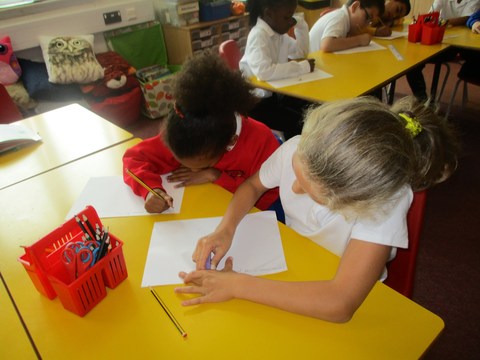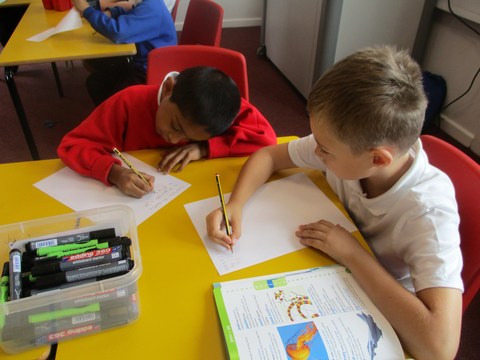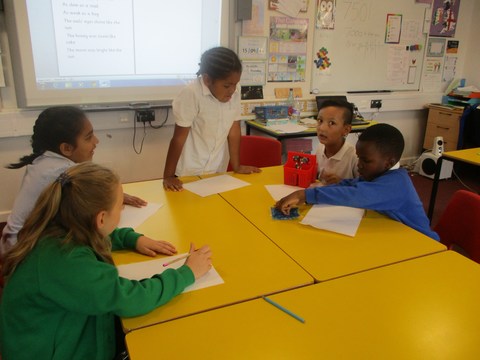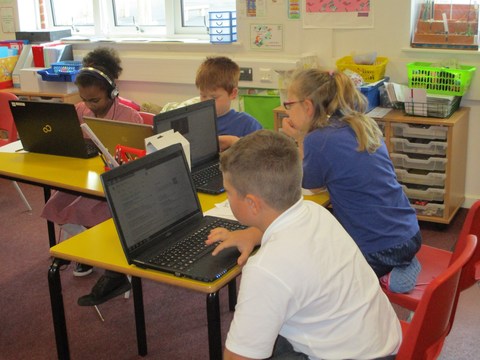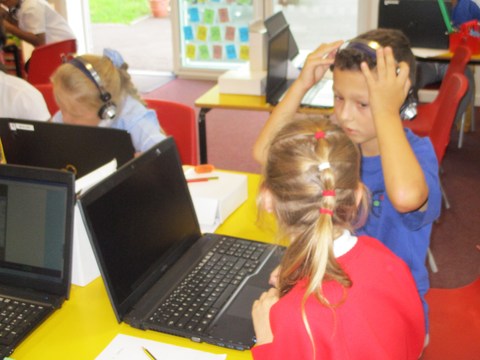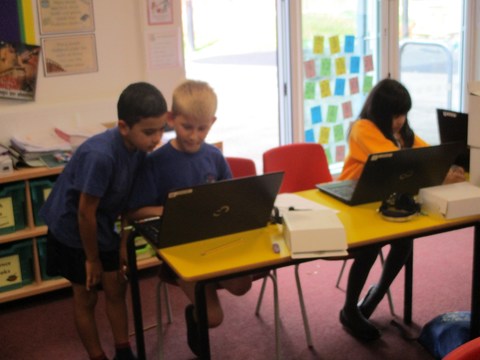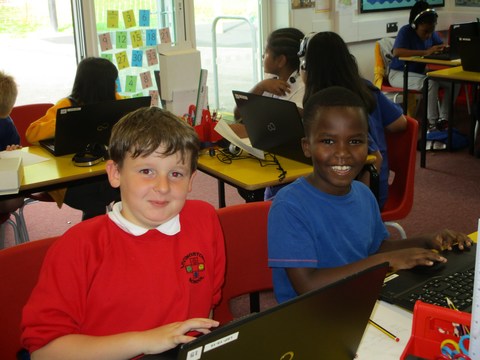 In our English lessons we have been working on our creative writing and have linked it to our topic work on World War Two. We have read 'The Lion and the Unicorn' by Shirley Hughes, which is a story all about a young boy called Lenny who is evacuated during the Blitz in London. It is a powerful and moving story and we have really enjoyed it. It has inspired us to write our own evacuation stories about a young girl during the War. We used some aspects from the story by Shirley Hughes but changed many elements to make it our own.
We are really excited at Livingstone as over the summer we have had a Science hub and Forest Schools cabin built!
These will enable us to carry out even more practical science investigations and experiments.
In Year 4 in Science our topic is 'Animals, including humans' and we have been investigating the digestion process. We have used books, videos and the internet to help us understand how our bodies work and have made models to show our learning. We have then gone on to investigate diet and our teeth!
We have carried out different experiments to investigate the effects of tooth decay and thought about healthy and balanced diets and how important these are.
Some Highlights from 2016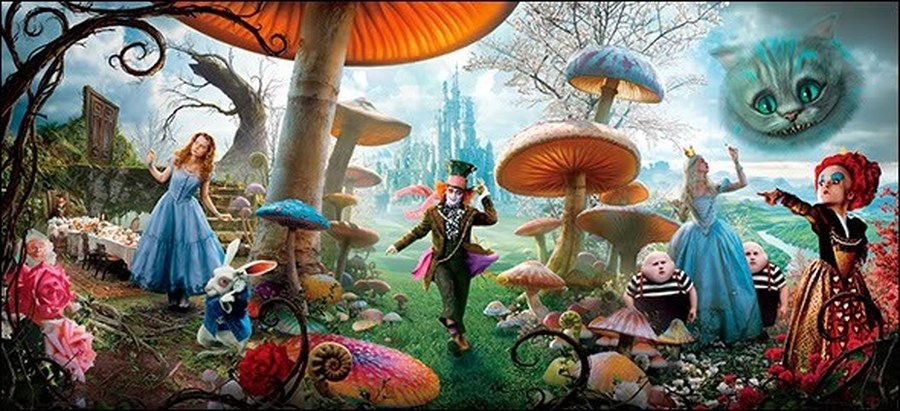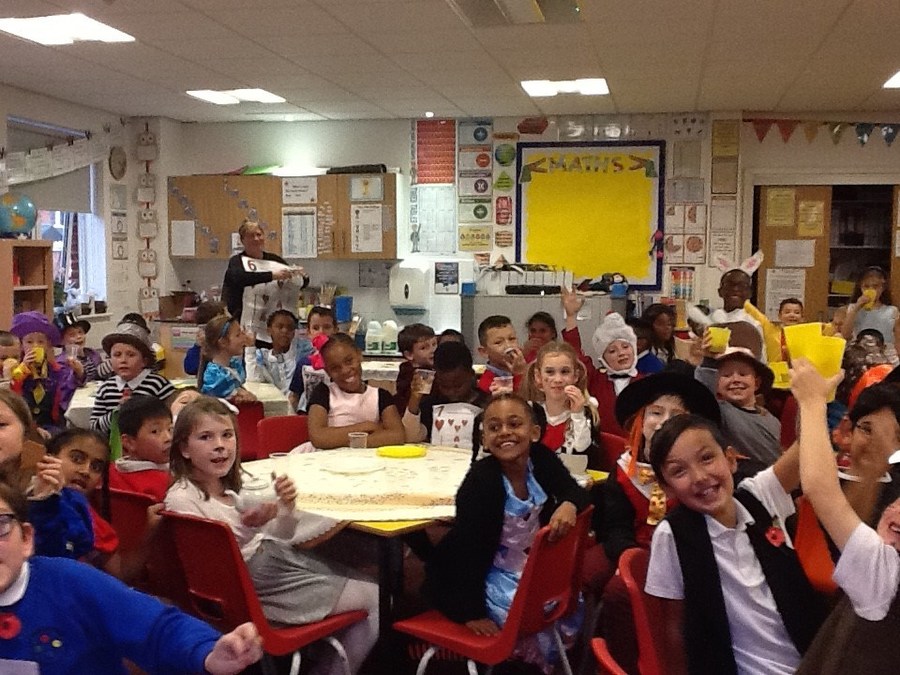 Book week was a hugely successful and enjoyable week.
We chose 'Alice in Wonderland' as our main text and it provided a springboard into lots of different styles and genres of writing, including character descriptions, creative writing and recounts.
We were very lucky to have a visit from a storyteller, who told us stories from out of his head that hadn't been written down!
The famous author Steve Smallman also came to visit.
He told us about some of his ideas and inspirations for his stories and read his new book to us. Over the course of the week we read and shared lots of different stories and books and even had a book sale where we could choose and buy books.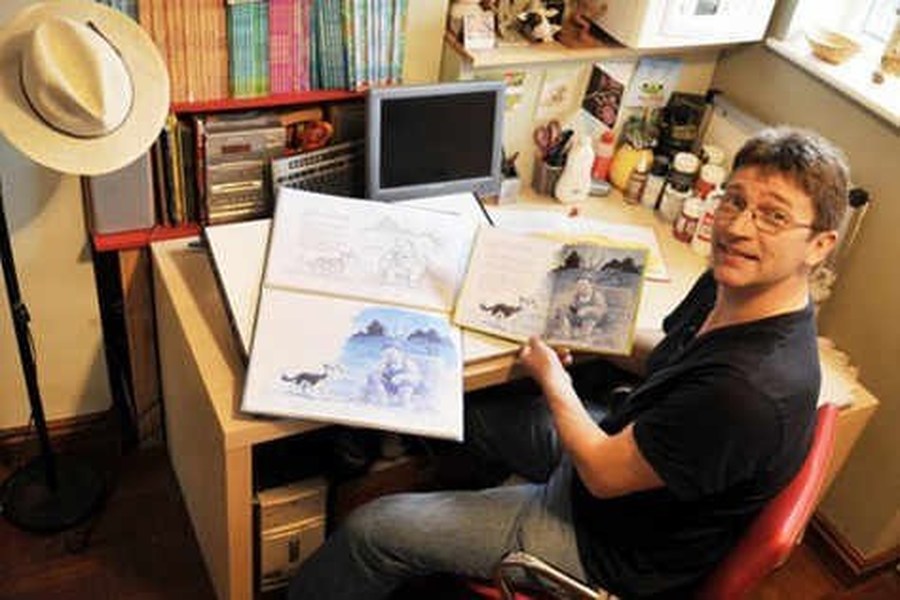 Our BIG topic this term has been World War Two.
Learning Through Topic
In order to enhance our knowledge and understanding of World War Two we were fortunate to visit Higgins Museum in Bedford and participate in several workshops about life in Wartime Britain.
Here, Leonie and Richard are helping the rest of the class to try and imagine what life might have been like for children who were evacuated during the war.
We learnt about important possession's they might pack in their small suitcase, identity labels and books and the importance of always carrying your gas mask.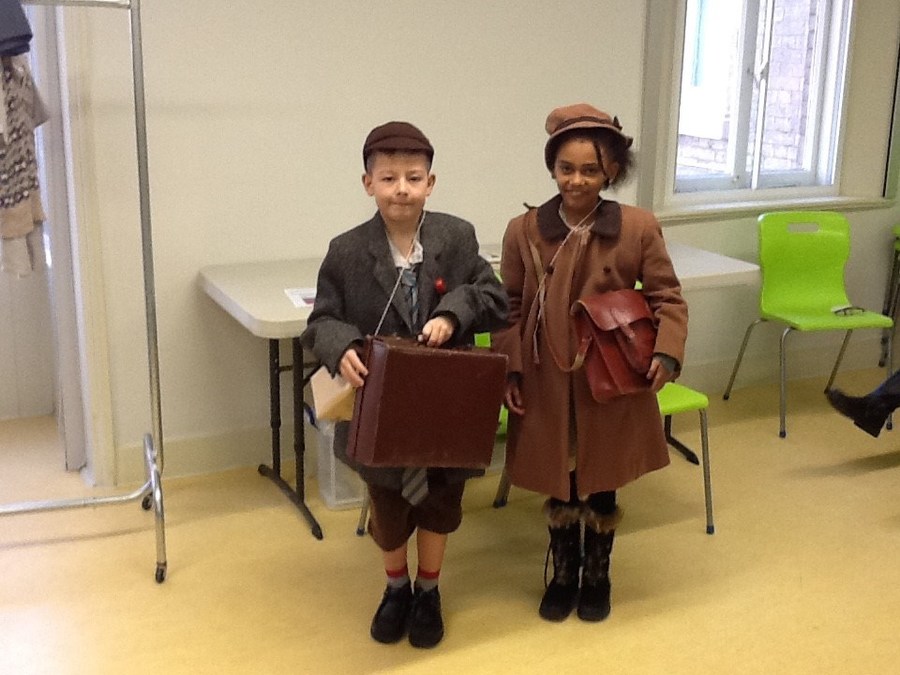 A big thank you to all the staff at Higgins Museum for making our learning experience so memorable and interesting.
Religious Festivals and Celebrations
Mr Chana and Miss Badhan taught Year 4 about the Hindu festival, Diwali, the festival of lights, which is the most popular of all the festivals from South Asia.
The word Diwali comes from the Sanskrit word deepavali, meaning "rows of lighted lamps". Mr Chana told us about the harmonium and taught us a song all about Diwali. We investigated pitch, tempo and dynamics using different musical games and activities.
Making Barfi
Mr Chana and Miss Badhan explained that barfi is served in India, all year round, but is especially consumed during the holiday seasons, wedding ceremonies and religious festivals. Barfi is served quite often at Diwali.
The traditional Hindu cuisine is an important part of these annual festivities, along with firework displays and specially crafted decorative lamps.
Barfi is a dense milk based sweet confectionery from the Indian subcontinent. The main ingredients of barfi include condensed milk and sugar. The ingredients are cooked in a pan until the mixture solidifies.
The flavour of barfi is often enhanced with fruits (such as mango or coconut) or nuts (such as pistachio, or peanut) and spices (such as cardamom or rose water).
They are typically cut into square, diamond, or round shapes.
We really enjoyed making the barfi and it tasted yummy!
Sharing and Celebrating Thanksgiving
We were very lucky to have a special visit from James's mother who came into Year 4 to share the story of the first Thanksgiving and her family's experiences of the festival and celebration. She shared with our class a beautifully written and illustrated book that she had made for her children that tells the story of how the Pilgrims invited the local Native Americans to a harvest feast after a particularly successful growing season in 1621.
Thanksgiving originated as a harvest festival and dates back to the arrival of the Pilgrims on US soil in 1620.
The settlers arrived in winter and struggled with harsh weather and limited rations.When Spring came the Pilgrims planted their own crops and were taught how to grow corn, pumpkin and squash by the Native Americans.
The Pilgrims invited the Native Americans to join them for a harvest feast which colonies began to celebrate annually.
Thanksgiving, and the three-day feast included goose, lobster, cod and deer. Turkey was not included as part of the traditional feast until much later.
James's mother told us about all the preparations she had been making to get ready for the Thanksgiving celebrations and brought in some very tasty pumpkin pie to share with our class.
Thanksgiving is on Thursday 24th November 2016 (and is always celebrated the fourth Thursday in November)
Thanksgiving Day traditionally kicks off the 'holiday season' in the United States. The day was set by President Franklin D. Roosevelt in 1939 and approved by Congress in 1941.
Many Americans think it of it as just as important as Christmas. In fact, more people in the US celebrate Thanksgiving than they do Christmas.
We shared with each other all the things we are thankful for and thanked James and his mother for sharing their Thanksgiving with us.
We are currently learning how to play the Ukulele and have lessons from a music teacher, Jessica, from the Schools Music Service, every Tuesday afternoon. We have learnt how to hold the instrument correctly and play different chords and notes. It takes a lot of practice and patience but we have been working hard so we improve. We have learnt how to play 'Twinkle, Twinkle, Little Star', 'Hit the Road Jack' and 'Shake it Off' by Taylor Swift. We are getting ready to join other schools and perform in a concert at the end of January.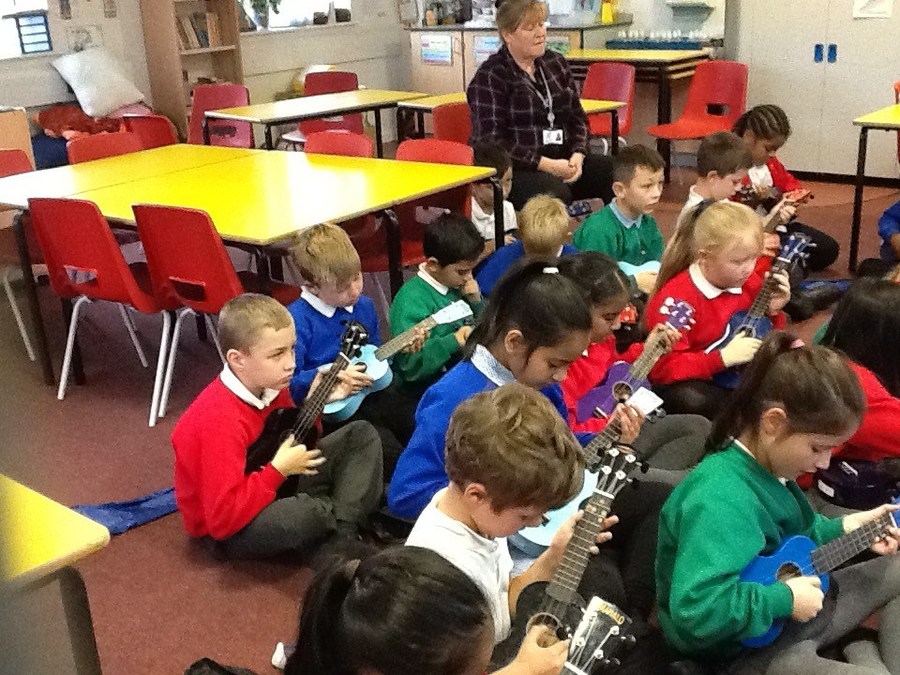 In Key Stage 2 we are competing in a reading league.
Each week we will see who has read the most so please make sure reading records are signed.
There are prizes for the child who reads the most and also the most improved reader.
Please read as much as possible, remember little and often is best. You can read anything you are interested in. It all counts!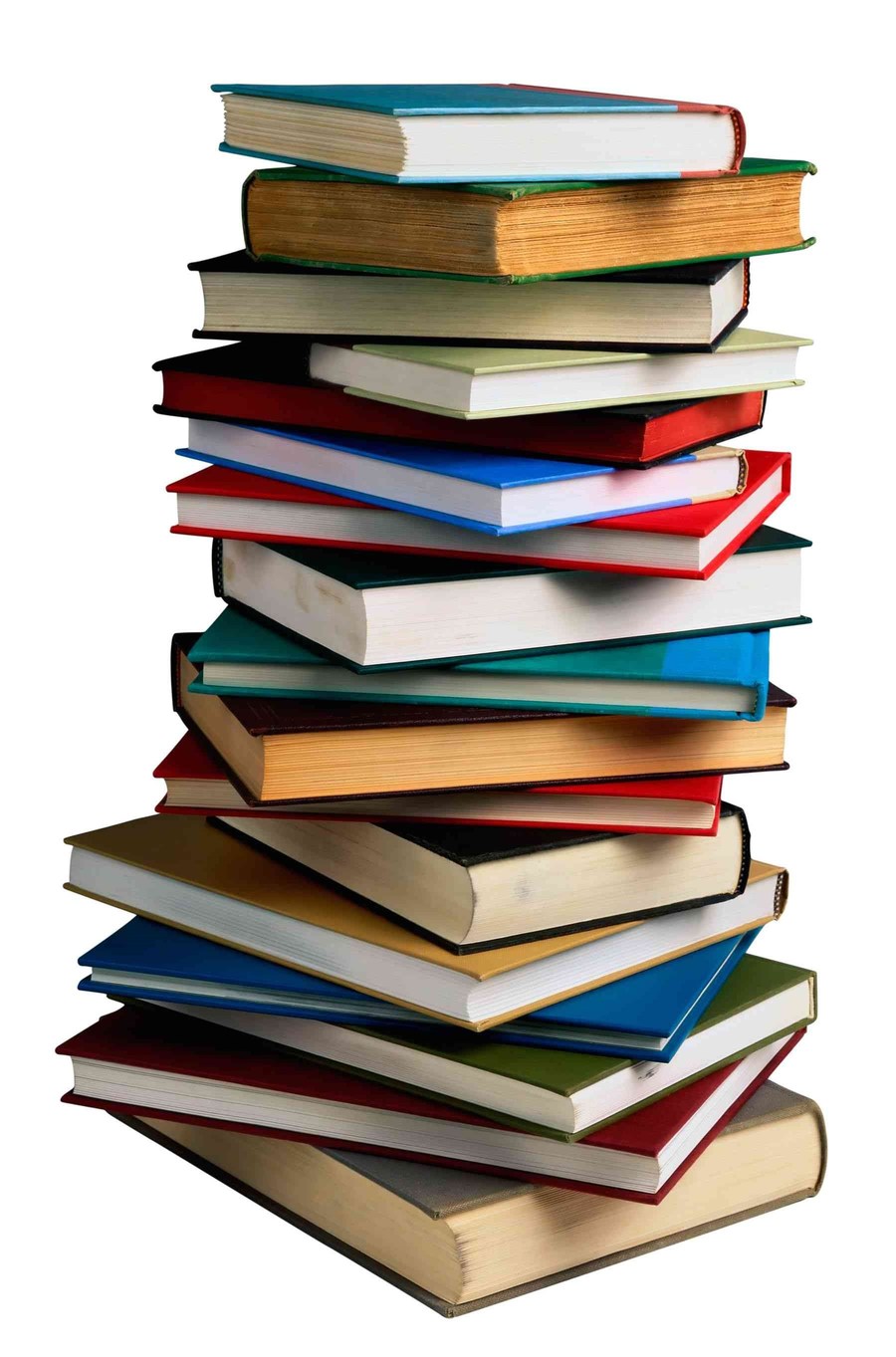 We also enjoy participating in the times table challenge.
It is important that children can recall multiplication facts and corresponding division in order to help them become more efficient when calculating and make links. Please help your child to learn their times tables.
Work hard so you can achieve a bronze, silver, gold or even platinum award.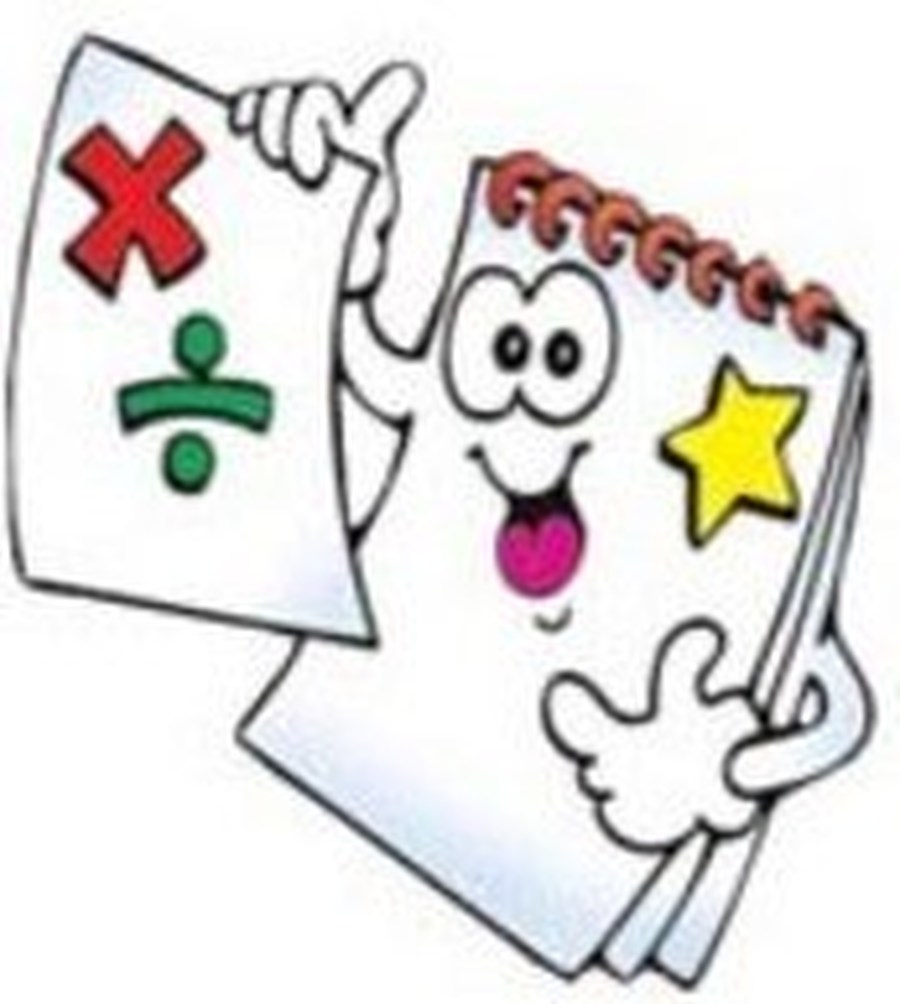 Please remember that your child should have their P.E. kit in school every day.
Sometimes P.E. days can change so this is really important. It should also be named.
Please note that homework will be given out on a Friday.
In year 4 children will have words that they need to learn how to spell. They will also be given a choice of homework activities linked to our topic. They should complete one each week.
Please also ensure they are reading and learning their times tables.
All homework needs to be handed in by the following Wednesday.
Thank you for your on-going support.
It really does make such a big difference.